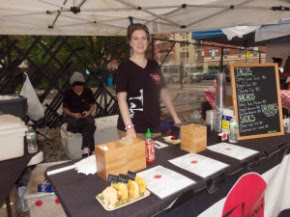 Last weekend HarlemEats launched and was a success! If you missed out, don't fret because this weekend we have some new friends joining us to make HarlemEats even better!
Sweet Dreams Gourmet Mini Donuts
Toum – Authentic Lebanese Cuisine
And of course, returning to the scene–
Caranval "Brazilian Barbecue"
Tipsy Scoop "Artisan Ice Cream with a Cocktail Twist"
Takumi Taco "Japanese Inspired Mexican Tacos"
Frittering Away "Specialty Lemonades in a Jar"
Jerk Shack "Caribbean BBQ and Jerk Everything"
Gorilla Grilled Cheese "The Finest Grilled Cheese, and So Much More"
It's Kale "Kale Snacks, Delicious and Healthy in One Bite"
We are back in action this Saturday and every Saturday until November 1st. Come check out the largest Uptown food event and support your local businesses. Vendors start serving at 11am and shut down at 5pm. Don't miss out this time and explore the growing and diverse neighborhood of Harlem!